About the Director - Prof. (Dr.) Amar K. Mohanty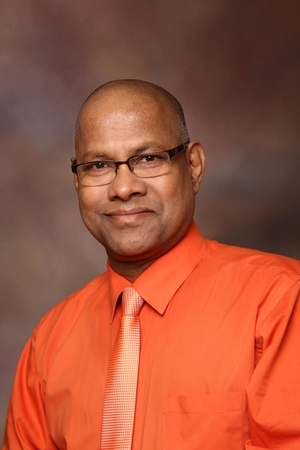 Fellow RSC (Canada), Fellow AIChE, Fellow SPE, Fellow RSC (UK)
  Distinguished Research Chair in Sustainable Biomaterials
  Ontario Agriculture College (OAC), University of Guelph 
  Director, Bioproducts Discovery & Development Centre (BDDC) 
  Professor of Bioproducts, Department of Plant Agriculture 
  Professor of Biological Engineering, School of Engineering
  Editor-in-Chief of Sustainable Composites
  @Composites Part C - Open Access (ELSEVIER)
  Google Scholar profile can be found here
  Citations (June 9, 2023): 50, 398
  h-index (June 9, 2023): 102
  i10-index (June 9, 2023): 458
 AD Scientific Index profile can be found here
 Top 1% in the World in H-index, i10-index and Citations (October 10, 2023)
 Top 1% in the World in Engineering & Technology (October 10, 2023)
 Top 1% in the World in Metallurgical & Materials Engineering  (October 10, 2023)
 Ranked #1 in Canada in Metallurgical & Materials Engineering  (October 10, 2023)
Brief Bio
Amar Mohanty is a Full Professor and Distinguished Research Chair in Sustainable Biomaterials at the Ontario Agriculture College and is the Director of the Bioproducts Discovery and Development Centre at the University of Guelph, Ontario, Canada. He is a former Michigan State University Professor and currently holds a Adjunct Professor position at the State University of New York, Syracuse, in the United States, Distinguished Professor position at the Indian Institute of Technology Guwahati, Guwahati, in India and a Visiting Professor status at the University of Portsmouth, in the UK.
Prof. Mohanty is an international leader in the field of bioplastics, biocomposites and advanced biorefinery. His research focuses on engineering value-added uses of biomass wastes and industrial co-products from agro-food and biofuel industries. Circular economy, environmental sustainability, waste plastic valorization, biodegradable plastics as single-use plastic alternatives, biocarbon based composites and 3D printing of sustainable materials are other areas of his expertise.
Prof. Mohanty is the Editor-in-Chief of Sustainable Composites, Composites Part C -Open Access; an ELSEVIER journal.
He is a highly cited researcher with more than 800 publications to his credit, including 462 peer-reviewed journal papers, 6 edited books, over 400 conference presentations, 25 book chapters, and 68 Patents (awarded/applied). 
Prof. Mohanty is a Fellow of: (i) the Royal Society of Canada, (ii) the American Institute of Chemical Engineers, (iii) the Royal Society of Chemistry (UK) and (iv) the Society of Plastic Engineers.
Prof. Mohanty has received many awards, including the (i) Miroslaw Romanowski Medal from the Royal Society of Canada (RSC), (ii) JL White Innovation Award from the Polymer Processing Society (PPS), (iii) Synergy Award for Innovation from Natural Sciences and Engineering Research Council of Canada (NSERC), (iv) Andrew Chase Forest Products Division Award from the American Institute of Chemical Engineers (AIChE) and (v) the Lifetime Achievement Award from the BioEnvironmental Polymer Society (BEPS), USA.
International Affiliations
- Adjunct Professor, Department of Chemical Engineering, State University of New York, USA.
- Visiting Professor, Faculty of Engineering, Faculty of Engineering, University of Portsmouth, UK
- Distinguished Professor, Sustainable Polymer Centre, Department of Chemical Engineering, IIT-Guwahati, India
External Links:
Amar Mohanty | College of Engineering and Physical Sciences
Honours & Awards
2022
2022 RSC Miroslaw Romanowski Award Lecture, Royal Society of Canada, Canada

2022

Prof. Dr. Gokulananda Mahapatra Oration Award 2022, Prof. Dr. Gokulananda Nityananda Mahapatra Foundation, India

2021

Miroslaw Romanowski Medal, Royal Society of Canada, Canada

2020 – Present

Fellow

, Royal Society of Canada, Canada

2020 – Present

OAC Distinguished Research Chair in Sustainable Biomaterials

, University of Guelph, Canada

2020

JL White Innovation Award

, Polymer Processing Society, USA

2019 – Present

Fellow

, Royal Society of Chemistry, UK

2019 – Present

Fellow

, Society of Plastics Engineers, USA

2019

Biju Patnaik Award for Scientific Excellence, Odisha Bigyan Academy, India

2019

OAC Alumni Distinguished Researcher Award

, University of Guelph, Canada

2018

– P

resent

Fellow

, American Institute of Chemical Engineers, USA.

2018

NSERC Synergy Award for Innovation

, Natural Sciences and Engineering Research Council, Canada

2017

– 2020

Research Leadership Chair Award

,

University of Guelph, Canada

2017

Highly Prolific Author

,

American Chemical Society (ACS) Sustainable Chemistry & Engineering, USA

2017

Featured Canadian Author

, Selected for ACS Publications Open Access Virtual Issue "Hot Materials in a Cool Country" - articles authored by Canadians to celebrate the 100th Canadian Chemistry Conference

2016

University of Guelph's Innovation of the Year Award, Canada.

For the creation of the 100% Compostable Bio-composite Resin; additional awards for this innovation visit: http://purpod100.com/awards/

2015

Lifetime Achievement Award

, BioEnvironmental Polymer Society, USA

2012

"Gold Medal" and Certificate

, International Conference on Composites Interfaces, (Interface21).

2011

Jim Hammar Memorial Service Award

,

BioEnvironmental Polymer Society, USA

2011 – 2015

5 Year Visiting Professorship

,

South China University, China

2008

– 2020

Premier's Research Chair in Biomaterials & Transportation

, University of Guelph, Canada (Endowed Research Chair awarded for 12 years)

2006

Andrew Chase Forest Products Division Award

, American Institute of Chemical Engineers, USA

1999

Prof. R. C. Tripathy Memorial Award (Young Scientist Award), Orissa Chemical Society

1998 – 1999

Alexander von Humboldt (AvH) Fellowship

, AvH Foundation, Germany

1980
Gold medal, Utkal University, Orissa being 1st Class 1st in M.Sc (Chemistry)
Honours & Awards
2022
2022 RSC Miroslaw Romanowski Award Lecture, Royal Society of Canada, Canada

2022

Prof. Dr. Gokulananda Mahapatra Oration Award 2022, Prof. Dr. Gokulananda Nityananda Mahapatra Foundation, India

2021

Miroslaw Romanowski Medal, Royal Society of Canada, Canada

2020 – Present

Fellow

, Royal Society of Canada, Canada

2020 – Present

OAC Distinguished Research Chair in Sustainable Biomaterials

, University of Guelph, Canada

2020

JL White Innovation Award

, Polymer Processing Society, USA

2019 – Present

Fellow

, Royal Society of Chemistry, UK

2019 – Present

Fellow

, Society of Plastics Engineers, USA

2019

Biju Patnaik Award for Scientific Excellence, Odisha Bigyan Academy, India

2019

OAC Alumni Distinguished Researcher Award

, University of Guelph, Canada

2018

– P

resent

Fellow

, American Institute of Chemical Engineers, USA.

2018

NSERC Synergy Award for Innovation

, Natural Sciences and Engineering Research Council, Canada

2017

– 2020

Research Leadership Chair Award

,

University of Guelph, Canada

2017

Highly Prolific Author

,

American Chemical Society (ACS) Sustainable Chemistry & Engineering, USA

2017

Featured Canadian Author

, Selected for ACS Publications Open Access Virtual Issue "Hot Materials in a Cool Country" - articles authored by Canadians to celebrate the 100th Canadian Chemistry Conference

2016

University of Guelph's Innovation of the Year Award, Canada.

For the creation of the 100% Compostable Bio-composite Resin; additional awards for this innovation visit: http://purpod100.com/awards/

2015

Lifetime Achievement Award

, BioEnvironmental Polymer Society, USA

2012

"Gold Medal" and Certificate

, International Conference on Composites Interfaces, (Interface21).

2011

Jim Hammar Memorial Service Award

,

BioEnvironmental Polymer Society, USA

2011 – 2015

5 Year Visiting Professorship

,

South China University, China

2008

– 2020

Premier's Research Chair in Biomaterials & Transportation

, University of Guelph, Canada (Endowed Research Chair awarded for 12 years)

2006

Andrew Chase Forest Products Division Award

, American Institute of Chemical Engineers, USA

1999

Prof. R. C. Tripathy Memorial Award (Young Scientist Award), Orissa Chemical Society

1998 – 1999

Alexander von Humboldt (AvH) Fellowship

, AvH Foundation, Germany

1980
Gold medal, Utkal University, Orissa being 1st Class 1st in M.Sc (Chemistry)