Club Coffee, the Toronto-based coffee roaster, announced today that they were granted certification from The Biodegradable Products Institute (BPI) for the PurPod100™. This certifies that the coffee pod meets the international standards for compostability. BPI is the largest independent certification organization for compostable products in North America. Club Coffee is the first manufacturer to earn BPI certification for single-serve pods.
A U of G team led by BDDC director Amar Mohanty developed a key component of the PurPod100™- the ring that holds the pod in place in a coffee brewer. The ring is made with coffee chaff, the skin of the coffee bean that comes off during the roasting process. The University filed a patent for the ring formula.
Read more about the PurPod100 here.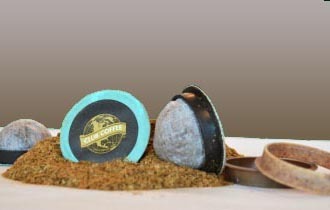 For more information, visit U of G News Release ; CBC Story, The Globe and Mail Story and Guelph Tribune