The 36th International Conference of the Polymer Processing Society took place on September 26, 2021 to September 29, 2021, in Montreal Bonaventure Hotel in Downtown Montreal. The goal of the conference is to foster scientific understanding and technical innovation in polymer processing by providing a discussion forum for the worldwide community of engineers and scientists in the field. The thematic range of the PPS encompasses all formulation, conversion and shaping operations applied to polymeric systems in the transformation from their monomeric forms to commercial products.
Prof. Mohanty presented his research on "Sustainable Composites: Circular Economy Driven Innovations & Commercializations" on Wednesday September 29, 2021.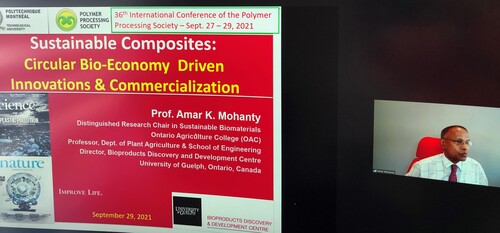 To learn more about this event, click here.