On February 7th, 2020, Dr. Sarah Overington, Deputy Director of the Engineering and Life Sciences Division, Research Grants at NSERC visited the BDDC. Sarah leads a team of people who provide strategic advice, coordination and analysis for Discovery Grants and other NSERC programs, with a strong focus on integrating equity, diversity, and inclusion throughout program design and delivery. Sarah joined NSERC in 2011, and she has worked with a range of disciplines and programs, including Subatomic Physics, Climate Change and Atmospheric Research, Discovery Frontiers, and the Chairs for Women in Science and Engineering.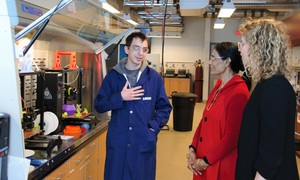 Undergraduate researcher Thomas Balint giving an overview of equipment in the BDDC.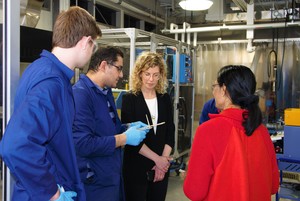 Prof. Misra giving a tour of the BDDC to Dr. Sarah Overington.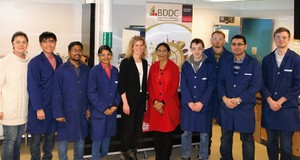 From left to right:
Milka Popov, Dr. Boon Peng Chang, Dr. Arvind Gupta, Dr. Drupitha MP, Dr. Sarah Overington, Prof. Manjusri Misra, Thomas Balint, Kjeld Meereboer, Dr. Mohamed Abdelwahab,  and Ethan Watt.