Professor Amar Mohanty and Manju Misra attended the 2019 AICHE Annual Meeting held in Orlando, Florida, which took place from November 10 to November 15, 2019.       The American Institute of Chemical Engineers (AICHE) Annual Meeting is the premier educational forum for chemical engineers interested in innovation and professional growth. Academic and industry experts present and discuss a wide range of topics, relevant to cutting-edge research,new technologies, and emerging growth areas in chemical engineering. 
Both Professor Misra and Mohanty represented Chair and Co-Chair positions for technical sessions, including "Value-Added Uses of Industrial CoProducts in Sustainable Uses" (Misra as Chair, Mohanty as Co-Chair), and "Lignin for Sustainable Industrial Uses" (Mohanty as Chair, Misra as Co-Chair). 
The Professors also took part in poster presentations as outlined below: (note: bolded name represents presenter). 
"Filament Fabrication and 3D Printability of Poly(3-hydroxybutyrate-c0-3-hydroxyvalerate)(PHBH)/Poly(lactic acid) (PLA) blends using a Commercial Chain Extender" [Authors: Miguel A. Vigil Fuentes, Suman Thakur, Manjusri Misra, Stefano Gregori, Amar K. Mohanty] 
"Polyhydroxyalkanoate (PHA) and Cellulose Ester based Biodegradable Plastic Blend for Sustainable Packaging" [Authors: Kjeld Meereboer, Akhilesh Pal, Manjusri Misra, Amar K. Mohanty]
Each Professor also delivered oral presentations as outlined below: 
"Enhanced Flame-Retardancy of Poly(butylene terephthalate) with Biobased Flame Retardant"  [Authors: Boon Peng Chang, Suman Thakur, Amar K. Mohanty, Manjusri Misra]
"Paper, Light-Weight Carbonaneous Biocomposites for Auto-part Uses" [Author: Amar K. Mohanty]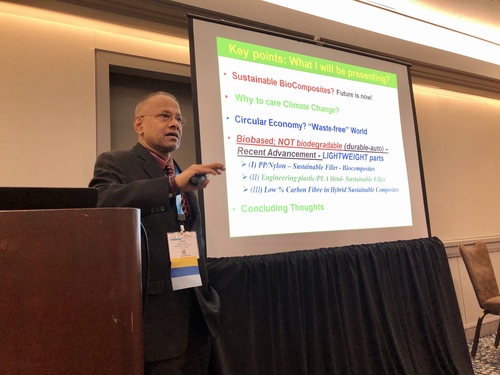 Professor Amar Mohanty during his oral presentation, November 12 2019.